A simple but sophisticated entrance hall with a unique console that features a green marble top, gilded details, curved edges and a wrought iron structure. A warm welcome to your family and friends.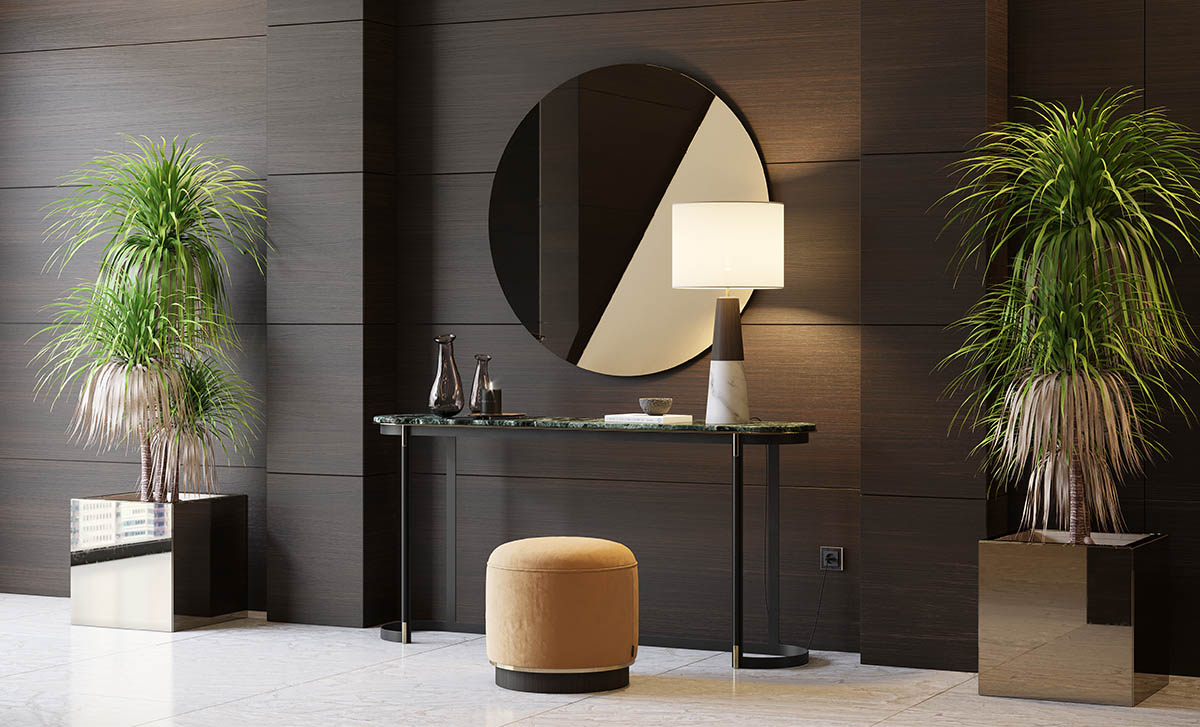 Seductive entrance hall, accurate in its execution and without fear of committing itself to a daring decorating style. The marble goes beyond black or white, as examples are the irresistible colors and patterns of this entry console, further enriched by the metallic details in copper.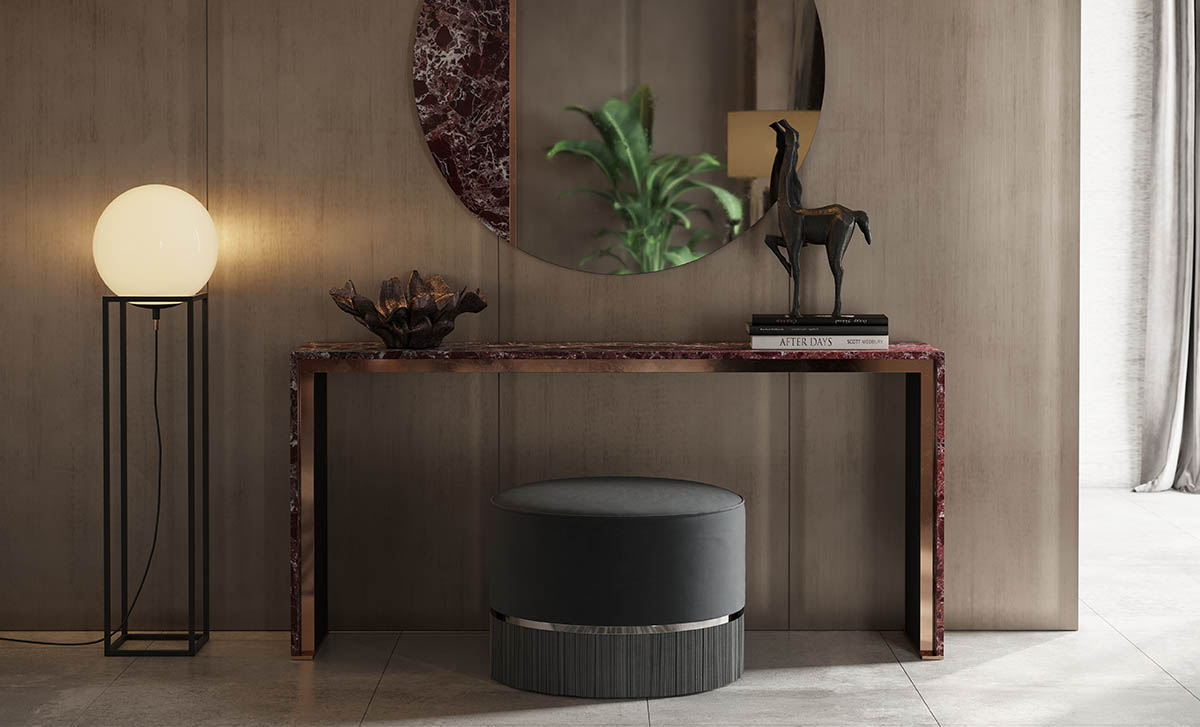 Entrance hall with grey koto wood top console, combined here with nickel stainless steel. For a simple result, it can serve as the base for a more vivid color like the salmon pouf that's underneath it.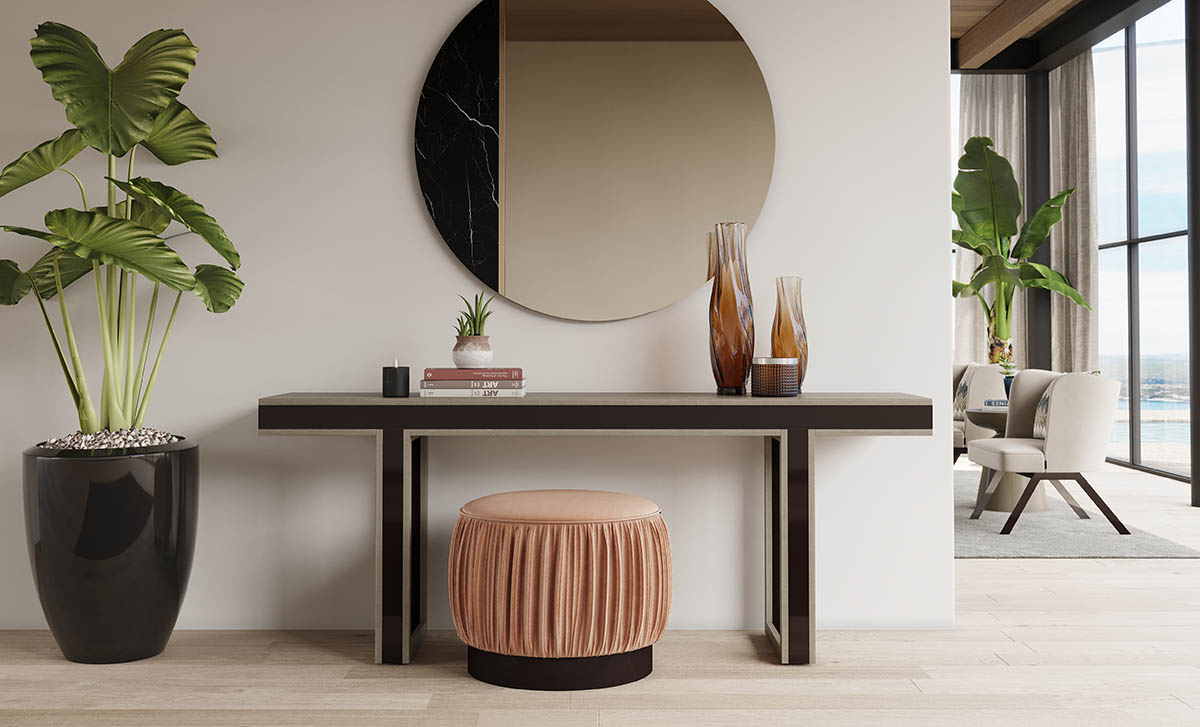 Entrance hall with a black ash console, accompanied by two poufs upholstered in attractive red padding. The metallic details are spread throughout all parts of this ambiance, whether in gold or metallic stainless steel.
At the heart of this entryway is a console with metal structure in W and top with 3 drawers in smoked eucalyptus. The choice of finish matches perfectly the walls of the house where it is, thus maintaining a uniformity throughout the environment.
Enhanced by brownish and white patterns, the black marble that stands out in this decoration is a balanced combination of subtlety and sturdiness.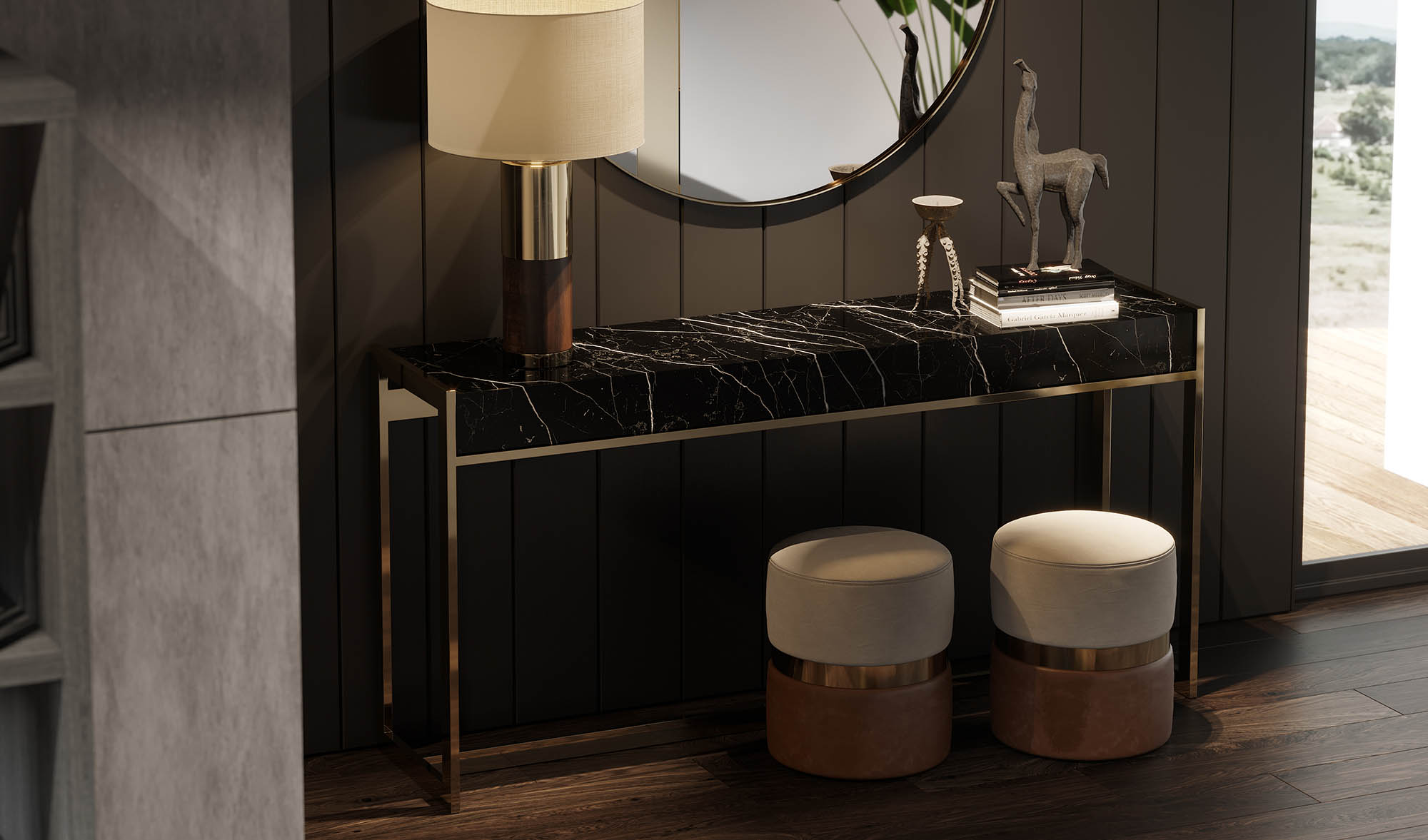 Simple but charming entrance hall with a wooden console that features a black lacquered base and smoked eucalyptus on the top. The upholstered pouf in red velvet presents hexagonal patterns that give another dimension to its minimalist design.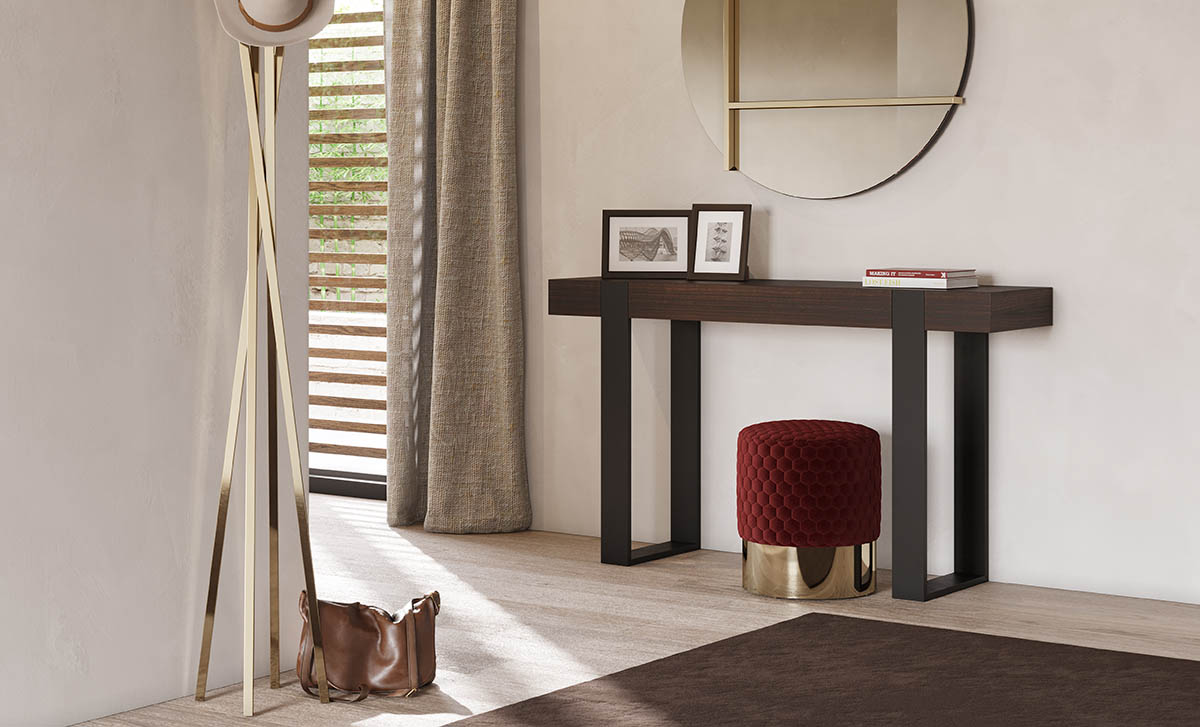 Entrance hall with a wide profile console accompanied by a myriad of other pieces of elegance. Starting with the console itself, the golden stainless steel that supports is a perfect complement to the marble wall that serves as background. The smoked eucalyptus top is also shared by the flower pot to provide some natural connection to the decor.
Entrance hall with a wooden console with copper-colored stainless steel structure. Using the black marble wall that serves as background, on this console is a table lamp in black marble with white patterns that cross it.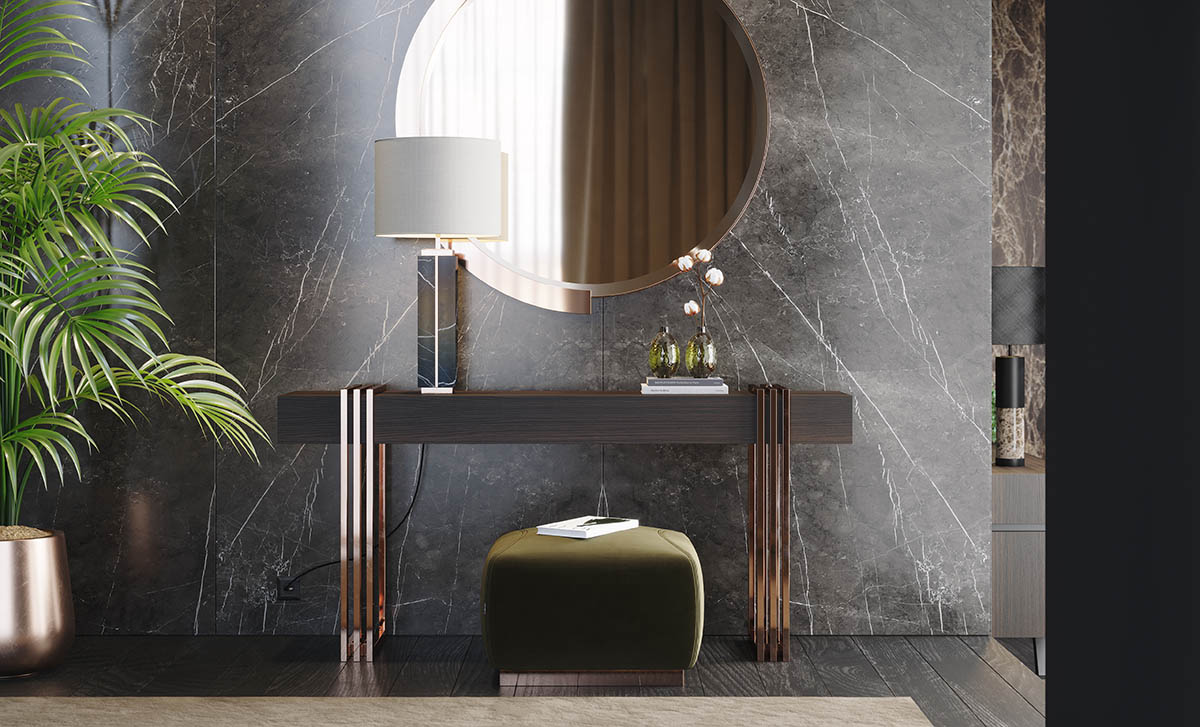 Entrance hall occupied by a smoked eucalyptus console and gilded stainless steel structure. The classic geometric set of the base interconnects from the floor to the top, front, and on both sides. The straight lines of these metallic squares turn this console into a gracious example of timeless beauty.
Consisting of entrance hall pieces, this ambiance is ideal to complement other decorations. Going beyond the neutral tones, the mirror is the essential element, making this a discreet, useful space that complements any type of color combination.
Subtle entrance hall décor where blending tones, woods, and metals translate into a unique and aesthetically pleasing result. It's useful on a day-to-day basis and can the highlight any decor.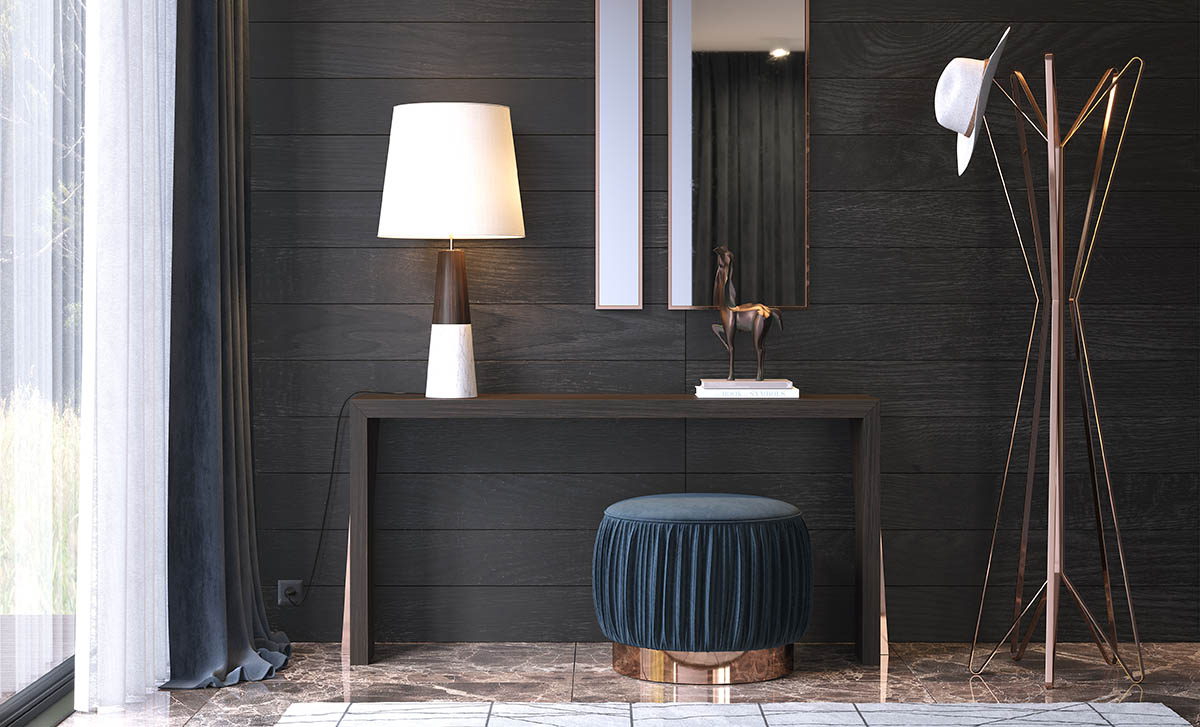 As an entrance hall or as a hallmark in a living room decor, the combination of pouf and console presented in this ambiance is simple, captivating and very versatile. The green upholstered fabric gives life to the simple lines and the grey wood tones.